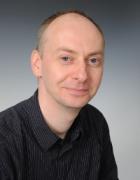 School of Physics and Astronomy
Research Interests
I am interested in the physical properties of solids at high pressure, which I study with x-ray diffraction and inelastic x-ray scattering experiments in combination with ab initio electronic structure calculations.
Pure Elements:  Over the past decade, numerous elements have been discovered to adopt high-pressure phases with extremely complex crystal structures.  I study the physical properties and teh mechanisms that stabilise exotic elemental phases.
Thermoelectric Materials:  I am interested in understanding why some thermoelectric materials show dramatic enhancements of their properties at high pressure, so as to help create better-performing thermolectrics. 
Email Address
Web Site(s)
Address
Centre for Science at Extreme Conditions, The University of Edinburgh Room 3803, Erskine Williamson Building, Peter Guthrie Tait Road, The King's Buildings Edinburgh, EH9 3FD